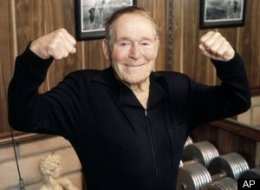 Jack LaLanne died Sunday from respitory failure due to pneumonia. He has influenced generations to get fit and stay healthy. Even in his later years Jack Lalanne was still on our TV sets, on talk shows and infomercials telling and showing us how being healthy can be fun and good!
Elaine LaLanne, Jack's wife of 51 years stated: ""I have not only lost my husband and a great American icon, but the best friend and most loving partner anyone could ever hope for,"
BLAKstar's thoughts and prayers go out to the LaLanne family, all their friends, supporters and fans!
MeaLee